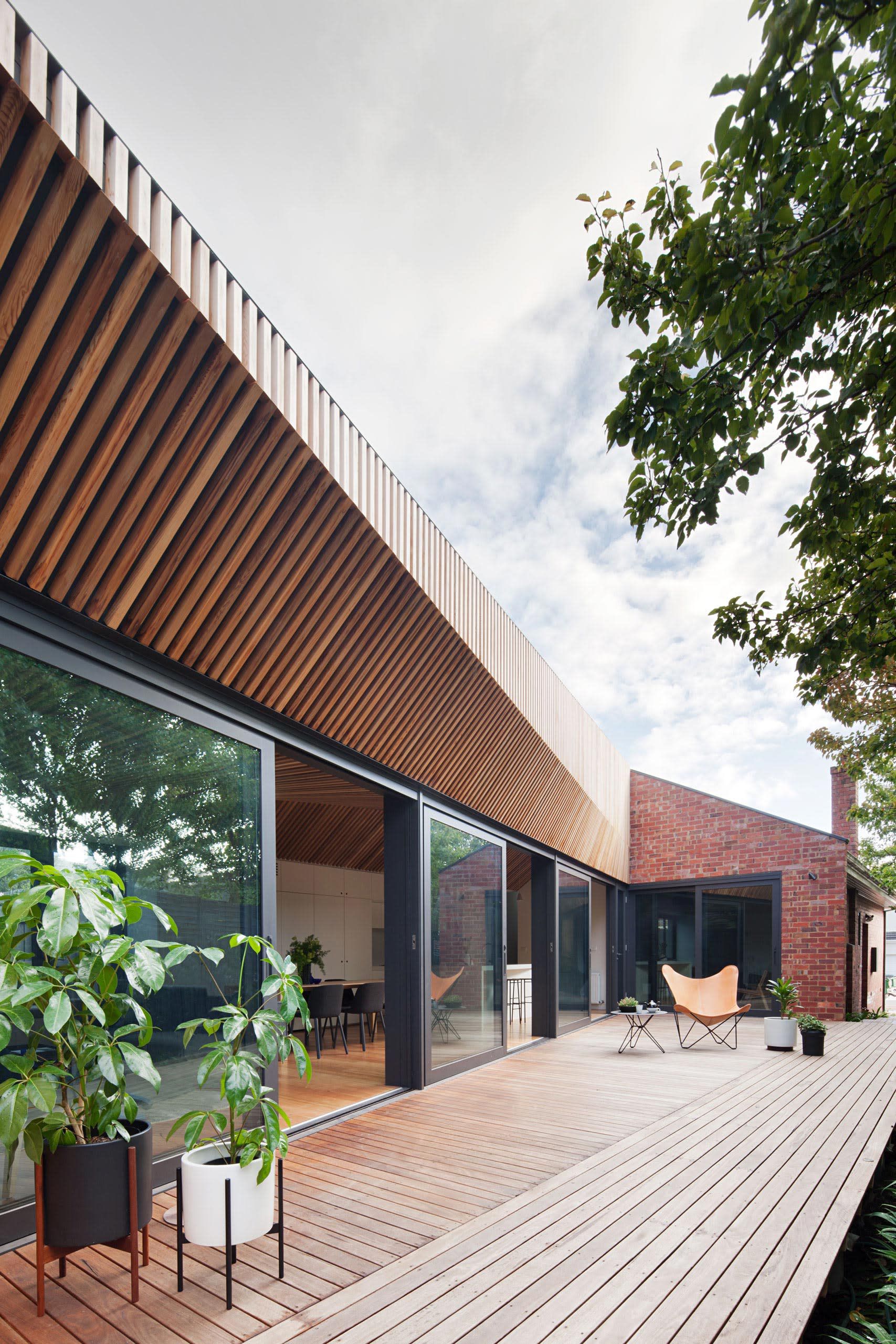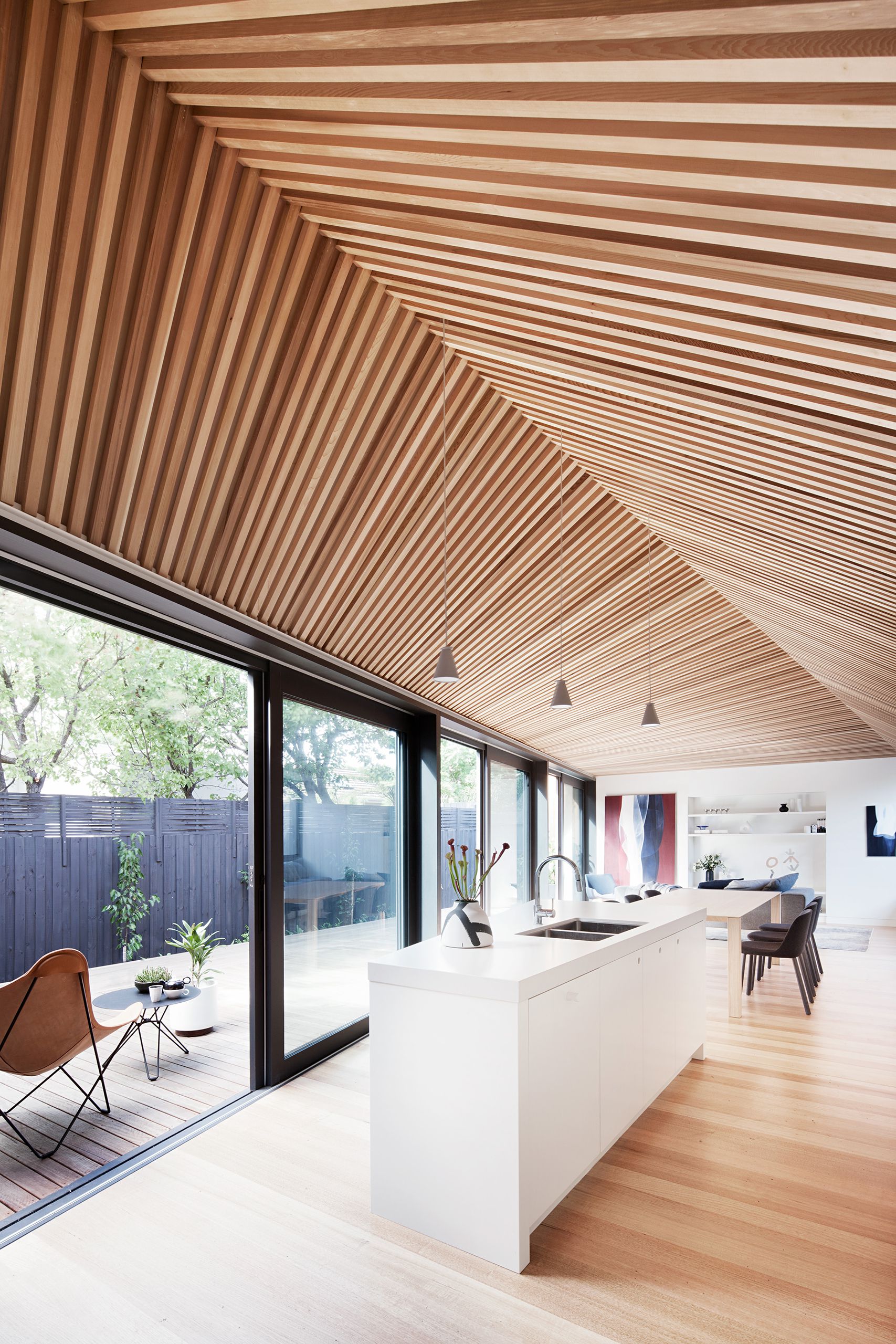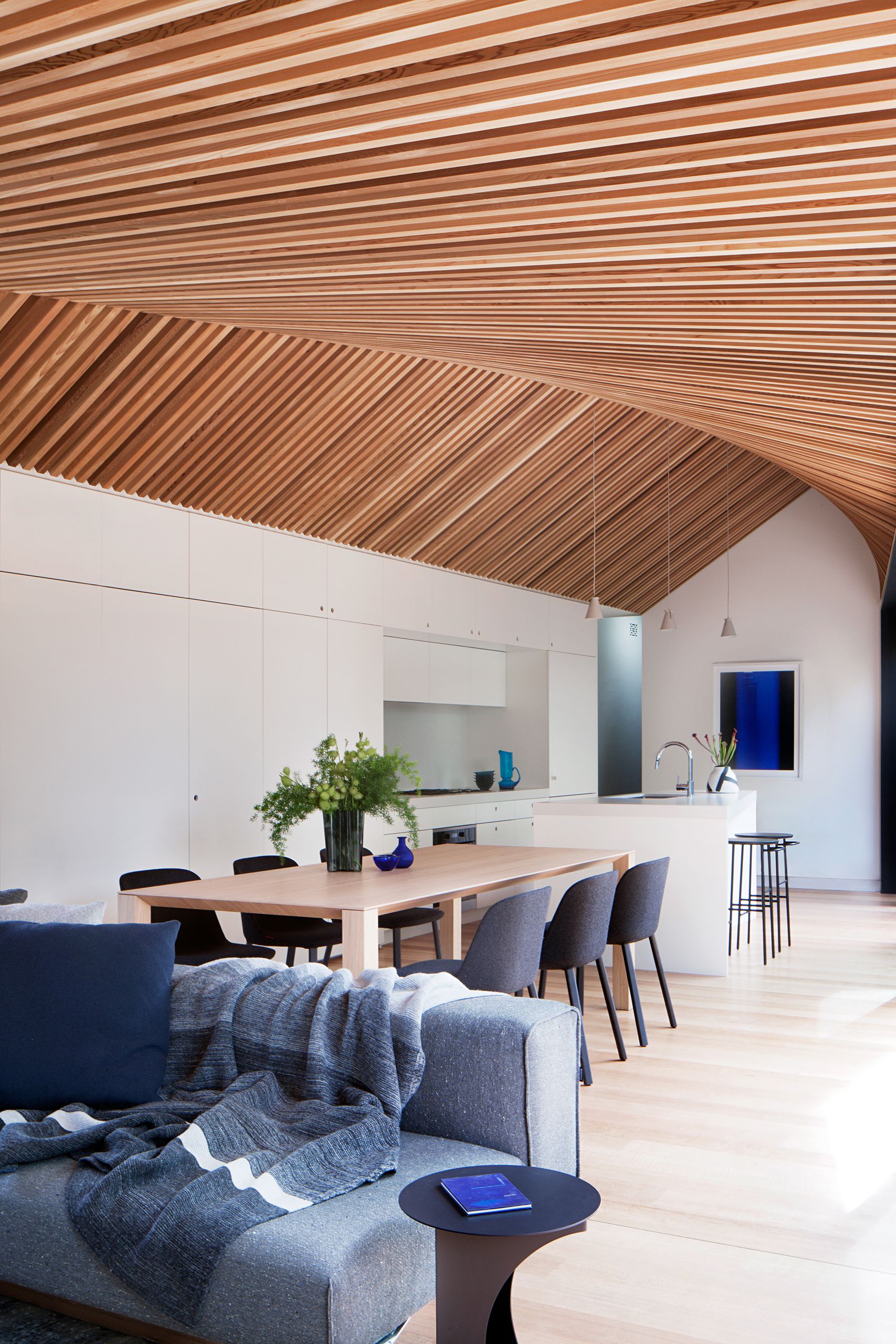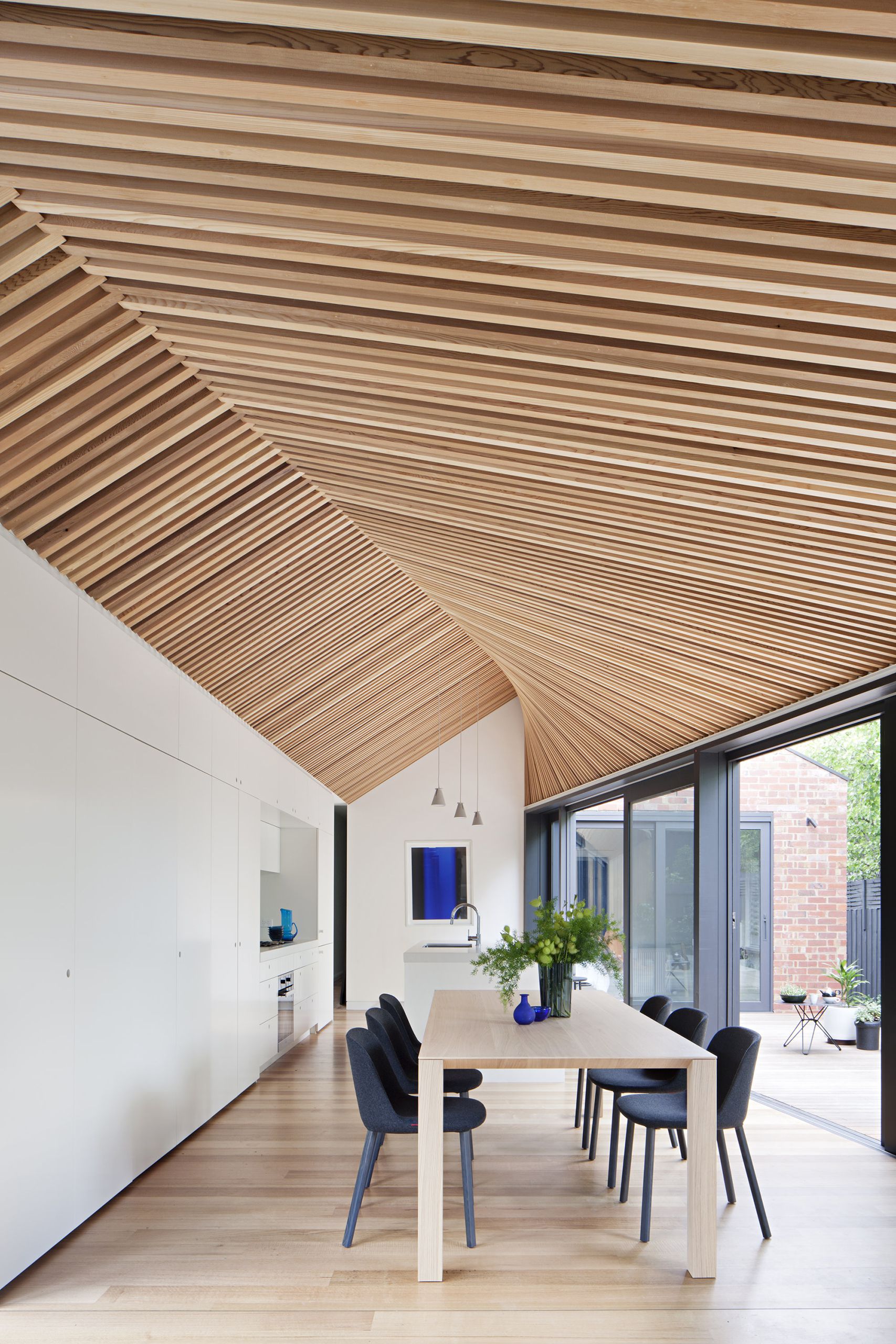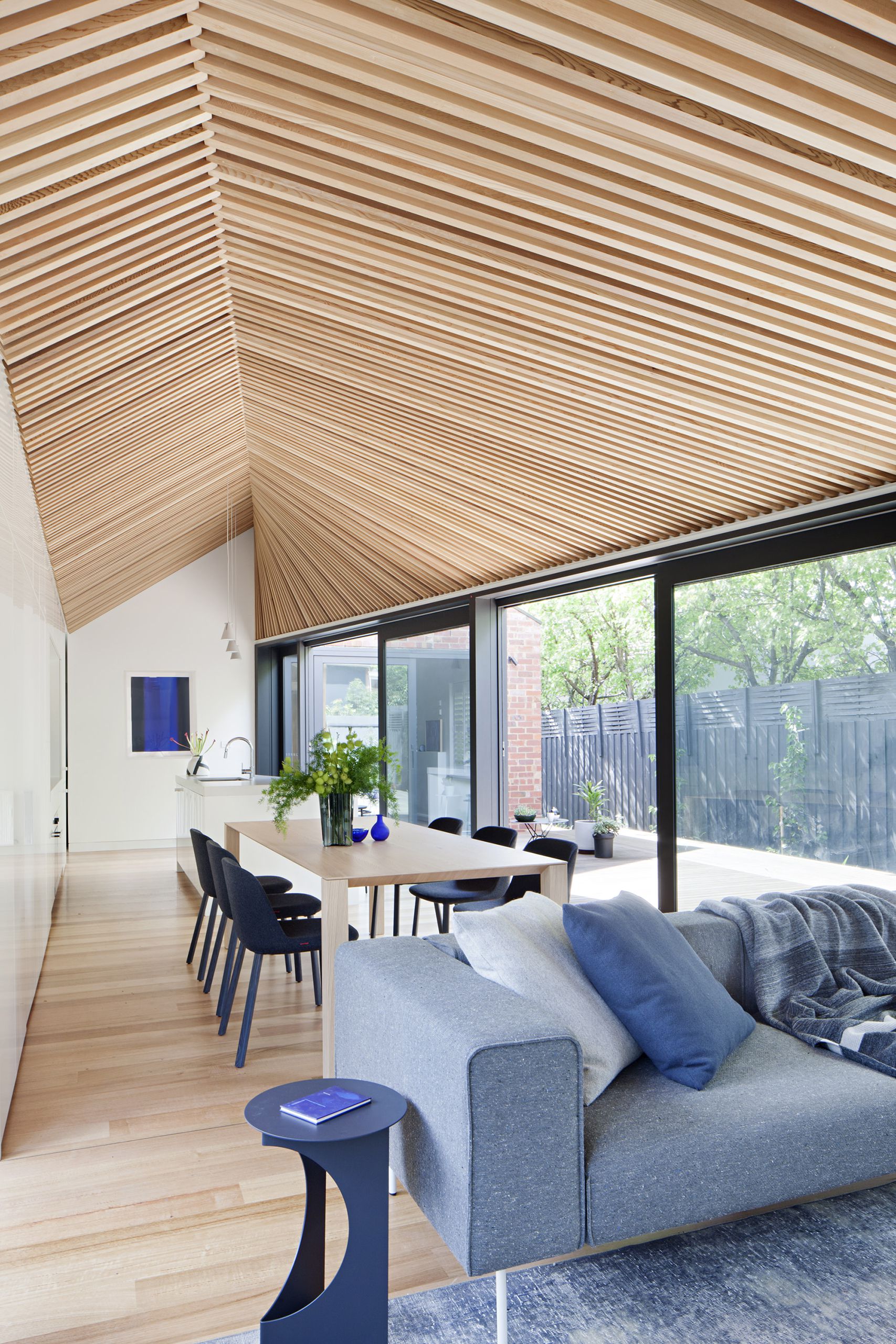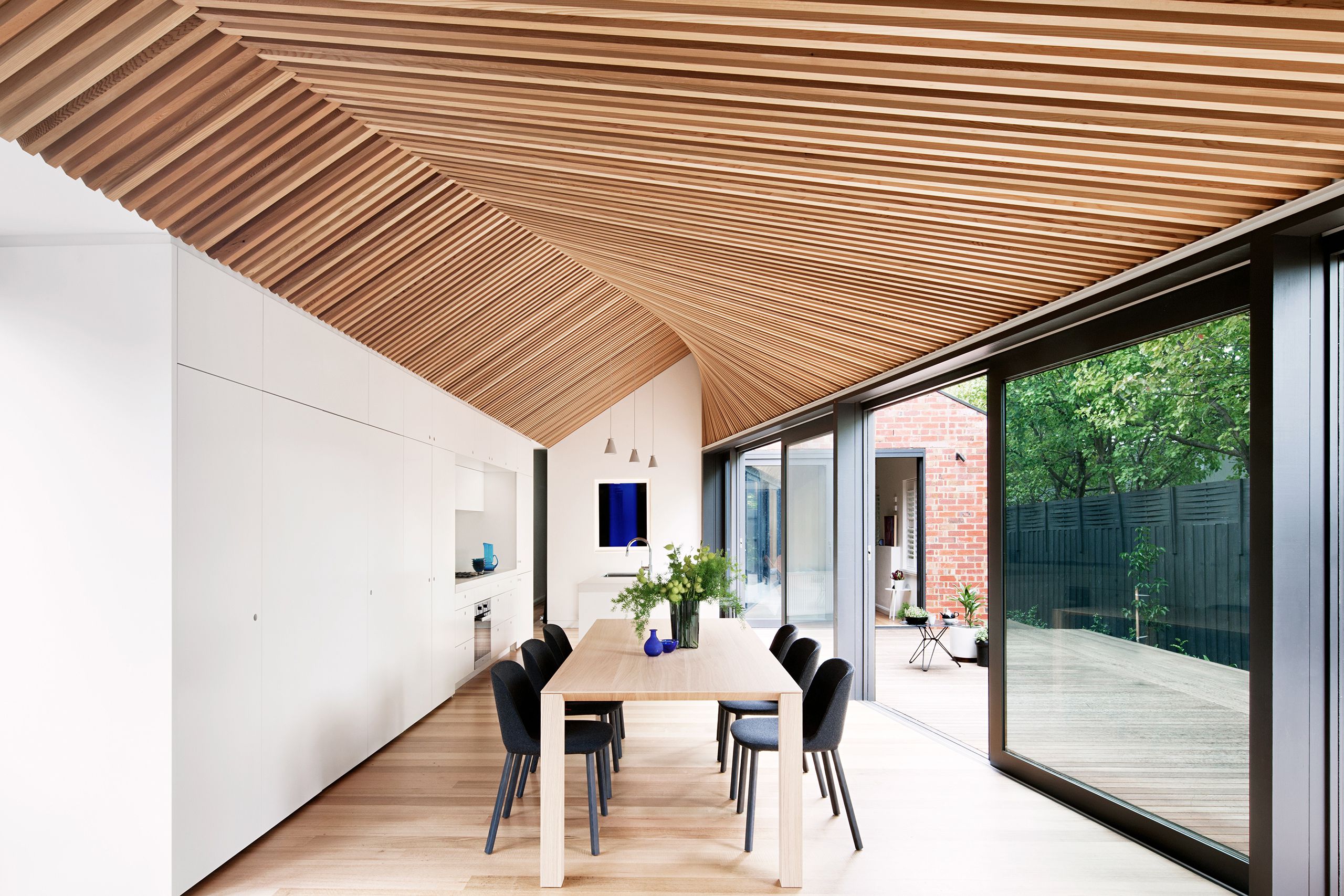 Anne Crescent Residence
The Anne Crescent Residence is an extension to the rear of an existing double-brick dwelling in Brighton. One of the front four rooms of the original house was altered to incorporate a bathroom, ensuite and walk-in-robe, while the remainder were left intact. The new volume to the rear of the property provides an open plan living, dining and kitchen area.
In a gesture that is both singular and complex, the new form negotiates three primary constraints: the gable profile of the existing roof; the provision of light, air and views to the interior; and the rescode envelope along the south boundary. This negotiation results in a set of ruled and planar surfaces that transform along the length of the plan from a skillion roof profile on one end, to a flat roof profile on the other.
The apex and pitch of the skillion profile align perfectly with the existing gable, establishing a series of datum from which the formal shifts of the intervention unfold. Whilst unashamedly contemporary, the new form takes its cue from the immediate context and appears to emerge out of the existing house. This dynamic adjacency of old and new offers a deliberate counterpoint to many backyard renovations, where an undifferentiated box abuts an existing pitched roof dwelling.
The figure of the plan is defined by an oblique glazed wall, which pivots from the existing ridgeline. In so doing, it addresses the difficult orientation of the property, opening up the interior to northeast light. Internally, the shifting form of the ceiling works in parallel with the geometry of the plan offering spatial definition to an otherwise open volume.
As with the form, the logic of the outdoor space is determined by resolving and overlaying pragmatic and formal concerns. When the plan inflects from the ridge of the existing house, a triangular courtyard is formed, opening up the existing master bedroom to a new source of light and defining an external living space at the junction between the old and new house.
The materiality of the project is intentionally restrained and used primarily to articulate the formal diagram of the renovation and its optical affects. Walls and joinery are painted white and recessively detailed, clearly defining the trapezoidal base of the form; while the ceiling and eaves are lined in timber battens, emphasising the virtual curves of the geometry that emerge from a precise array of straight lines.
Credits
Photography by Shannon McGrath